Weather Conditions & Delay
A weather delay is any instance where Mother Nature has made portions of a route impassable. For us here in Washington, that tends to be snow and ice. 
Enclosures need to be completely clear of snow and ice, and this includes on the sides. Otherwise the gates don't open wide enough for a truck. Ice on the ground means the truck has difficulty gaining traction. We've seen cases where the driver can't get enough grip to put the container back in the enclosure. Iced gate pins are also an issue. Drivers can't open the enclosure and that results in a missed pick up.
In regards to parking lots and alleys, drivers need room to make a front-facing approach, as well as room to turn around. Snow piles in alleys can result in a missed up pick for you and possibly your fellow neighbors. We are often running later than usual on harsher snow days, and so it's important to keep containers clear of obstructions for the whole day.
It is very important to understand that in many cities the front-load driver is only up there once or twice a week. To avoid having to wait until the next available service day please take extra care to maintain your enclosure.
Hills: Even with chains, our trucks have less success climbing hills than most passenger cars. A vehicle of this size and weight can't stop easily when they start to slide, and the momentum can easily send them into someone's yard. Move carts either to the top or the bottom of the hill, to the portion of the road that is county maintained. 
Cul-de-sacs: Our trucks are long with many blind spots. When the snow hits and the space available to them shrinks, due to snow banks and cars parked where they normally wouldn't be, our drivers can't turn around to get out of the cul-de-sac. Putting the carts to one side of the cul-de-sac would give us a better chance of collection.
Alleys: Alleys are treacherous for large trucks when icy. A driver will always attempt an alley pick up, but has to make a judgement call based on the condition of the alley for the safety of your property and our vehicle. If you see that your whole alley was skipped, we recommend moving the carts out to a main road to circumvent the issue.
Cities often have their streets plowed well enough for our trucks to get by, but with mounds of snow plowed against the sidewalks, this makes the cart inaccessible to the truck. We ask that in these cases you clear an area by the mound of snow and place the cart there for service. Keep in mind that the carts need to be out far enough for the arm of the truck to reach it. 
County roads are not maintained as often as city roads are.  We will always attempt to get to your cart/container, however there may be some winters where we are unable to get to you for multiple weeks in a row.  In these cases it is best to leave the cart where you would normally put it for service, because there may be circumstances where we can get a different driver to service that area on a different day.  If we are unable to service you, we will pick up the extra bags at no charge when we are next able to safely get to you.
It is very important to make sure that your private roads or personal driveways have been cleared of enough snow to allow the truck a safe passage. A driver will not attempt a PR or a driveway that looks treacherous enough to get him stuck. We recommend moving carts out to the main county road that's been maintained for service in these scenarios.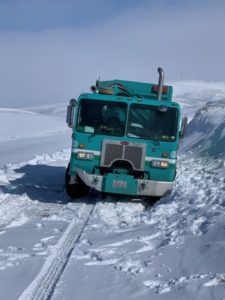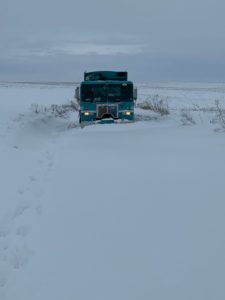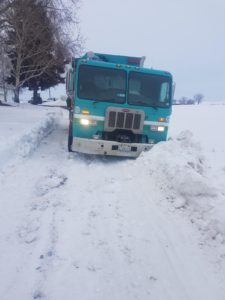 For help in setting up service please contact our Service Representatives at (509) 547-2476. We will make sure you get exactly the service you need at the lowest cost.
While state law requires adequate space be provided at all new commercial establishments for storage and access to garbage containers, needs vary according to your business and location. Our Route Manager can help design an appropriate enclosure, either with you or directly with your architect or contractor. For help in setting up service please contact us at (509) 547-2476.
Motor Oil and oil bases liquids are NOT accepted in Franklin County at this time. For more information contact the Franklin County Hazardous Waste at (509) 547-2088. Please DO NOT mix used motor oil with anything else, including other fuels, antifreeze, brake fluid, paint, and paint-thinners, cooking oils, solvents, kitty-litter, debris or water. Store in a one gallon (or smaller) non-breakable container. Clean plastic milk jugs and pop bottles work great. Do not store in old bleach, detergent or antifreeze bottles. Please screw on threaded lids tightly and seal "pop top" style lids securely with duct tape.
Commercial container recycling service is available for recycling all types of scrap metal including steel, aluminum, brass and copper. Please contact us at (509) 547-2476 about a special container for your location, if needed. You are responsible for paying container rental and hauling fees. If the material has a positive value, you receive a credit applied to your account. If the material has a negative value, you are charged accordingly for the materials. Even if there is a charge, in almost all cases, costs to recycle are still less than disposal costs. For help in setting up service please contact our Sales Representatives at (509) 547-2476.
Commercial recycling services are available for recycling most types of film plastics,. You are responsible for paying container rental and hauling fees. If the material has a positive value, you receive a credit applied to your account. If the material has a negative value, you are charged accordingly for the materials. Even if there is a charge, in almost all cases, costs to recycle are still less than disposal costs. For help in setting up service please contact our Service Representatives at (509) 547-2476.
Call us at (509) 547-2476 for details on the collection of your old appliances.
Appliances can be placed out for curbside garbage collection. If possible, please call our office to notify us that you will be placing an appliance out for collection. We will then arrange for a special truck to collect it. Please not that an evacuation charge will be applied to appliances with Freon such as refrigerators, freezer, and air conditioning units.
We accept unbroken vehicle or boat batteries for recycling at the BDI Transfer station. For cracked or damaged batteries, or smaller batteries such as flashlight, hearing aid, camera, rechargeable, lithium, etc. please use the HHW Facility
No. Basin Recycling only accepts aluminum beverage containers for recycling. Please consult the yellow pages under "scrap metal – processors" for local Recycling Centers. If you have large quantities of scrap metal, we can provide you with a drop box and haul the material to a scrap metal processor of your choice.
We pickup Christmas trees curbside much like we do for yard waste! Just like with other logs and branches, cut your Christmas trees down to 4ft lengths. Remove any ornaments and tinsel.
Rates
City limit customers with included extras pickup: there is no charge for Christmas trees
For BDI/EDS county customers: Christmas trees are charged 1 extra yard (no matter the size) at $16.02 + tax
For Yakima county customers: Christmas trees are charged at $1/ft + tax
For WW customers: Please call 509-547-2476 for rates
For Pasco customers: You can take Christmas trees to the golf course on RD 36 to be recycled. It is especially important to remove tinsel and ornaments as the trees are chipped and then spread on the running/walking path. 
In most areas we do not replace stinky/smelly cans. It's important that you do your part to keep our cans clean by periodically rinsing them out with your preferred multi-purpose cleaner. 
We also recommend bagging all garbage and avoid putting any liquids in the can that can leak out of bags and leave a smelly residue. 
We try to make paying your bill as convenient as possible. You can always mail your bill to our office with the address provided on your statement. However, there are several options for payment delivery:
A payment drop box is located at the TRAC Center in Pasco
Auto-payment via your checking account, debit or credit card
Please review the following  guide for residential and commercial County customers here.
Basin Disposal Inc. and Ed's Disposal work all holidays. If your collection day falls on a holiday please set out your garbage and recycling the night before, or by no later than 6:00 AM on your collection day.
If you are a customer of Basin Disposal of Yakima LLC, the following holidays are observed:
New Year's
Memorial Day
July 4th
Labor Day
Thanksgiving
Christmas
Please place your carts out the night before your service day. Your pick-up time may vary due to unforeseen circumstances and service could happen anytime between 5:00 AM and 5:00 PM
Yes, just call our office at (509) 547-2476 to request a pick-up. In most cases, if you forget to put your containers out before our trucks arrive, there will be a return trip charge applied to your next bill.
Please contact us at (509) 547-2476 to find the nearest location that accepts cardboard. Regular, larger quantities of cardboard from home-based or commercial locations may require commercial recycling bins. For scheduling and delivery of such a container, contact us at (509) 547-2476.
NO. Only non-hazardous solid waste can be disposed of through your garbage service with Basin Disposal Inc. If you are a Franklin County resident, you are able to dispose of home-generated hazardous waste at our HHW (Household Hazardous Waste) Facility located at BDI Transfer. Please contact Basin Disposal Inc. at (509) 547-2476 to schedule an appointment or to find out more information.
Please click here to view more information provided by Franklin County HHW. This flyer describes what types of material the HHW Facility will accept.
If you are a resident of Benton County, please call (509) 942-7387.
(HHW)
Home-generated hazardous waste can be delivered to Benton County Moderate Risk Waste Facility at the Richland Landfill (proof of Benton County resident required). The facility is 3.5 miles west of Richland off Highway 240 on 3102 Twin Bridges Road. Hours are Monday thru Friday 8 am – 4 pm and Saturday / Sunday 9 am – 5 pm. Call (509) 942-7387 for information.
This service is for Franklin County residents only. If you live in Benton County, please direct your HHW to the Benton County facility located at the Richland Landfill. Please call (509) 942-7491 for more information or visit http://www.co.benton.wa.us/solidwaste/
If you are a resident of Yakima County, please call (509) 574-2472.
Take household hazardous wastes to either the Terrace Heights or Cheyne Landfills. For more information on disposing hazardous waste in the Yakima Valley, go to http://www.co.yakima.wa.us/publicservices/SW_hazardous.htm
If you are a resident of Walla Walla please go to https://www.wallawallawa.gov/government/public-works/solid-waste/household-hazardous-waste
Due to mercury content Basin Disposal is not able to accept fluorescent lamps and high intensity discharge lamps (HID).  For information, and to find out how to safely dispose of these items, please visit www.lightrecyclewa.org.
Small quantities of household liquids such as cooking oils and beauty products are acceptable as long as they are in a sealed container. Any free flowing liquids are not accepted. Please properly recycle your household generated fluids such as paint thinners, solvents, etc.
We can only accept empty barrels (no ashes). For burn barrels with material in them please contact the Northwest Air Pollution Authority (NWAPA) for instructions at (800) 622-4627.
Please call our office at (509) 547-2476 to arrange for the delivery of a new container. Depending on the situation a fee may be applied to your next bill. Please do not take garbage containers with you if you move unless it is directed by a Basin Disposal Inc., or Ed's Disposal operator. All garbage containers provided by Basin Disposal are the property of Basin Disposal Inc.
No. To us, all yard wastes produced at your home are the same as garbage. We can accept materials such as grass clippings, garden trimmings, weeds, branches and leaves. Yard waste is accepted both in regular collection and at the BDI Transfer station. Depending on the waste, fees may be incurred depending on the situation.